Degree through VAP
The VAP Validation of Acquired Professional Skills
Accreditation of Skills, Training, and Professional Experience. Say for instance, if you have skills, previous training, Professional Work, or Job Experience,  then you may feel free to accredit your such life skills, training, and work experience into a VAP or VAE Degree from Accredited GEPEA EUROPE Academy for International Higher Studies. GEPEA Jury and Board will review and judge your complete profile for granting/accepting or rejecting the VAP or VAE Accreditation. Requirements: Identification Document (ID/Residence Permit/Passport/Any Valid Photo ID), Certificate of Qualification (If any), In the Individual Curriculum Vitae (CV) profile and Portfolio of professional experience, You have to mention clearly the number of years you worked, Where you worked, the Name and level of the position where you worked, You have to mention your Professional field/area, your Contribution towards society and Community, and your Achievement from Local, National, and International associations/Institutions.
Recognition of Professional Experience:
Validation of Professional Acquired Skills (VAP), In other words, VAP means "Validation of Acquired Professional Skills".
The VAP (Validation des Acquis Professionnels) or The VAP (Validation of Professional Experience) terms are used to gain direct access to a University program except by having the required diploma, through the accreditation of professional experience (paid or unpaid), prior training, or personal/individual experience not covered by a traditional training system.
Validation of Professional Experience (VAP):
For people with professional experience (salaried or non-salaried), who have developed personal/individual professional skills outside of any conventional training system and wish to have pursued them validated in order to access a higher level of professional training by obtaining a diploma exemption.
What advantages does the VAE & VAP at GEPEA EUROPE offer?
Obtain a degree that is recognized by the State and by companies.
Identify and enhance your individual skills development.
Identify and have your skills globally recognized.
Validate and capitalize on your knowledge.
Complete your professional training in your desired field (if necessary).
Access the network of European International Accredited Higher Education.
Prior Experiential Learning Assessment – VAP & VAE:
UNESCO GUIDELINES for the [1] Recognition, Validation and Accreditation (RVA) of the Outcomes of Non-formal and Informal Learning, [ 2] Recognition, validation and accreditation (RVA) of youth and adult basic education as a foundation of lifelong learning can be read from the below links:
https://unesdoc.unesco.org/ark:/48223/pf0000263619
https://unesdoc.unesco.org/ark:/48223/pf0000216360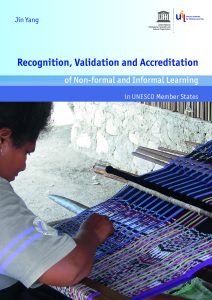 Eligibility Requirements:
The validation of acquired experience is open to all persons, whether salaried or non-salaried persons. There are several structures that certify professional experience with the aim of enrolling in the VAP & VAE training.
While it is an individual right, it does not automatically result in a diploma being granted. This procedure is subject to an initial assessment of your complete profile/resume and eligibility on the basis of your professional individual career and the diploma desired.
To qualify for the VAE/VAP, you must demonstrate, by drafting and defending your VAE/VAP case, that you have the skills, knowledge, and aptitudes outlined in the competency dictionary for the diploma/degree in question. OR
It describes and analyzes the skills and knowledge acquired in the candidate's professional and/or personal career, in relation to the skills repository of the qualification concerned. It will also be necessary to provide evidence of these achievements. A VAE or VAP Consultant will be assigned from GEPEA.
This requires a real investment of your time; drafting your VAE/VAP case file and providing the documentation expected by the accreditation board/review panel is a considerable task. The review panel will review your individual file, your oral presentation audio/visual/e-mail correspondence (Questions and Answers session), and all supporting documents will be properly reviewed and analyzed.
Present the proof of significant professional life/work experience (paid, unpaid, or volunteer work) directly connected to the competency dictionary for the desired VAP/VAE degree.
For a single diploma: Submit only one application in a single calendar year to the GEPEA institution.
Application Decision:  Acceptance, Partial Acceptance, Rejection.
Bachelor's Degree: Bac + 3 UNESCO ISCED code 6 = ECTS 1st cycle: 180-240 credits (3 to 4 years)
License de Lettres (equivalent to the US Bachelor of Arts degree)
License de Sciences (equivalent to the US Bachelor of Science degree)
License en Administration des Affaires (equivalent to the US Bachelor of Business Administration degree),
Master's Degree: Bac + 5 UNESCO ISCED code 7 = ECTS  2nd cycle: 60-120 credits (1 to 2 years)
Maitrise (equivalent to the US Masters degree) and
Doctoral Degree: Bac + 8 UNESCO ISCED code 8 = ECTS  3rd cycle: no specific range
Diplome de Ph.D. (equivalent to the US Doctoral degree).
MINIMUM YEARS REQUIRED FOR VAE or VAP APPLICATION SUBMISSION
The Ministère de l'Education of France emphasizes that the VAE or VAP is for any individual, no matter his/her age, race, sex, nationality, status, or education level, who already had at least one year of professional work experience continuously or discontinuously, on a full-time or part-time basis, in France, Europe or abroad (Internationally).
The working time regulation in France for one year is equivalent to 1,607 hours, which is 35 hours per week. (Sarkozy's 'work more to earn more' — Travail, Emploi et Pouvoir d'Achat, TEPA law)
​
CONTACT US:
For more details, regarding VAE or VAP eligibility or to submit your application then you may email your complete CV/Resume/Profile to  gepea.official@gmail.com  or office@gepea.eu
NOTICE:
"No Honorary or VAE degree shall ever be conferred in consideration of the payment of money or offering bribe or gifts of whatsoever kind; unless through merit and/or voluntary donations, contributions to the GEPEA University and statutory administrative fee."  - GEPEA UNIVERSITY ADMINISTRATION