Greetings and welcome to GEPEA University! As the President, it gives me immense pleasure to extend my warmest congratulations to you on choosing our institution to further your academic aspirations.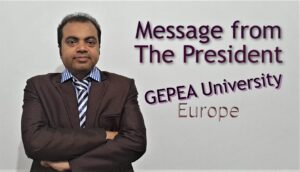 At GEPEA, we are committed to providing an exceptional open and distance learning experience for higher education and research, whilst fostering a unique and inclusive community. We place our students at the forefront of our e-campus, offering them a plethora of opportunities and inspiring them to achieve their goals.
Our faculty members are devoted to excellence in teaching, innovative research, and creative works that aim to make a positive impact on our beloved world. GEPEA has made significant strides in several areas, building upon our founding ideals and ambitions. We take pride in having established one of the great universities of the 21st century.
Our mission statement reflects our aspirations to be a leading research university, committed to postgraduate and doctoral education, cultivating a diverse global community of learning and discovery. We strive to make a distinctive and positive mark on our global village, through education, research, and service, enriching understanding, discovering knowledge, creating opportunities, and improving our world.
At GEPEA, we hold our community members to a high standard of values, including excellence, academic freedom, curiosity, integrity, innovation, mutual respect and human dignity, diversity and inclusivity, personal accountability and social responsibility, professional image and status, a sense of community, civic engagement, and service. These values are just as vital as the academic offerings and rules included in our notices.
We are proud of the diversity of our community, recognizing that we must continue our work to build a more inclusive and diverse global community across the entire university.
We are thrilled that you have chosen to be a part of our dynamic research university. On behalf of our faculty and staff, I wish you the very best in your academic pursuits, and I look forward to celebrating your academic successes. I am excited to work with you as you embrace the opportunities that GEPEA offers and achieve your aspirations and dreams.
Sincerely,
Prof. Dr. Rejaul Abedin, PhD, DBA, FCMAN, FGEPEA
President,
GEPEA University, Europe